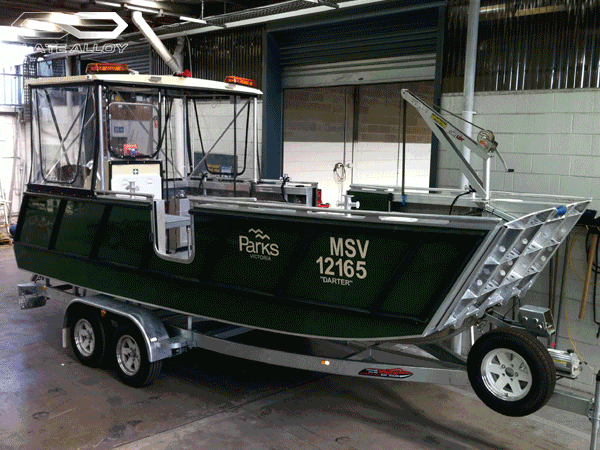 Boat Building:

The team at Plate Alloy Australia Pty Ltd specalise in the design and manufacture of custom vessels for commercial (Survey) use. Our clients include Waterway managers, Government institutions and rescue authorities .

We have a large range of Landing Barge designs which are both outboard and inboard powered including jet drive models. The Barges range in size from 4m to 12m in length, and all vessels comply with AMSA Survey requirements in specific classes.

The aluminium hulled rigid inflatable range of vessels can be supplied from 4m to 8m in length and can be provided with either inboard and outboard propulsion systems.

We work with organisations to design and manufacture vessels to meet specific requirements and supply vessels which can work in the most demanding situations.

We have in-house 3D design, CNC cutting, aluminium fabrication and welding services at our boat building and Training facility in Cheltenham, Victoria.

We use the most advanced marine design software linked to the latest CNC cutting systems to produce products of the highest quality. Our welding systems include the latest in Pulse Mig welding technology. We also manufacture jetties, gangways, floating docks, navigation markers and other marine and transport related componentry.

We can also build recreational vessels. In most instances these vessels are usually quite specific in customers requirements.

If you require a commercial vessel, or would like to discuss a boat related matter with us, please call us to discuss your requirements.