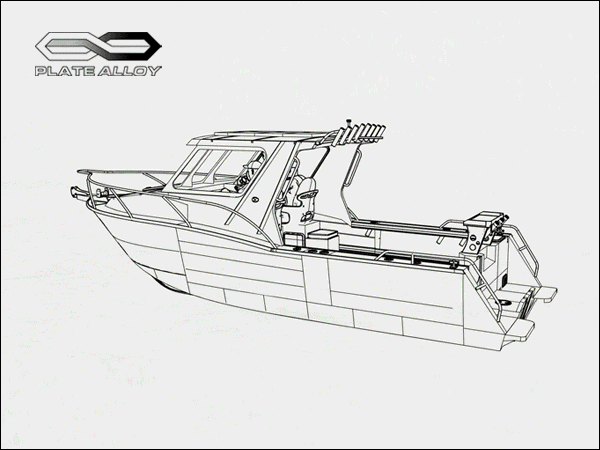 The team at Plate Alloy Australia Pty Ltd, are dedicated to designing, manufacturing, and supplying products of the highest quality and standard.

We design and manufacture commercial vessels, (in Survey), including Barges, RIBS and custom vessels. We also have a large range of pre-cut boat kits, designed for the home builder and professional.

We use the latest computer software and the most accurate cutting systems available to produce high quality componentry for the marine, architectural, automotive, transport and building industries.

We are commited to continually develop and expand our range of marine kits to ensure that our range of products are the best and most comprehensive available.

We also undertake contract cutting of vessel kits and components from other designers and architects.

We are specialists in the fabrication and welding of aluminium, and we manufacture walkways, floating docks and pontoons, and can design and fabricate custom componentry.

On the artistic side - We collaborate with artists to design and create award winning artworks and sculptures.
Willing to share our knowledge, we teach Aluminium Welding and Boatbuilding courses at least five times per year, and we have been doing this for 18+ years.

NOTE: COURSE DATES FOR 2024 ARE LISTED UNDER "BOAT KITS" then "BUILD COURSE".

Contact us for more information on (03) 9555 6399.

REMEMBER IF EMAILING US, PLEASE INCLUDE YOUR PHONE NUMBER AND LOCATION FOR FREIGHT QUOTE.
ALSO PLEASE CHECK YOUR JUNK MAIL AND SPAM FOLDERS. WE USUALLY REPLY THE SAME DAY OR NEXT DAY.
ONLY 20% OF OUR DESIGNS ARE ON THE WEB, SO BEST TO ALWAYS CALL TO DISCUSS.