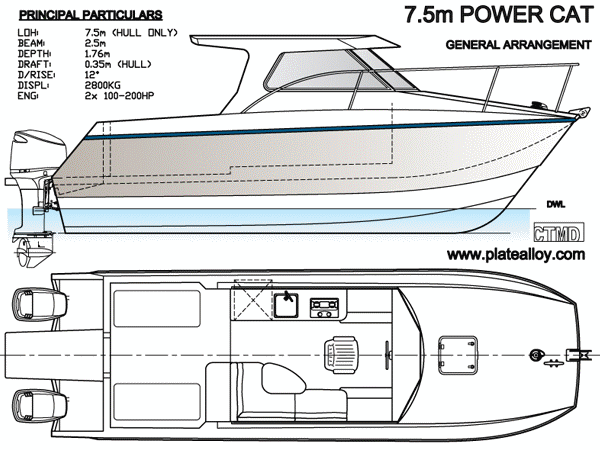 Boat Kits Section:

We have a large selection of monohull kits, mainly in the trailerable range from 4m to 8m. The Power Cat range extends from 5.2m to 13m.

Please browse under the selected category and peruse the list.

If you would like a vessel which is not listed, please call us and we may be able to design a vessel for you, as we do offer a custom design service.

We are able to produce commercial vessel kits (AMSA Survey approved) if required. Please contact us if this is your requirement, as some vessels have type approval.

If you have a design, or use another designer but you would like us to cut and supply the kit, we are able to do this, please ask the designer to contact us so we can discuss the format of the files we require for nesting and cutting.

We are very competitive on the cutting and supply of marine kits. We have low overheads and minimise expenditure on advertising. This website, and the Plate Alloy Book, are our main form of advertising.

We used to attend one Australian boat show event each year, that was the Sanctuary Cove Boat show, in Queensland. We stopped this several years ago, as we asked visitors about the show and they said that they were able to get all the information they need from our website and magazine articles, so the money we save by not doing the shows, you save by us not having to increase our kit prices to cover show expenses.